What a mid-week in the Premier League. Every game was a cracker and we haven't been able to say that a whole lot this year. The fixture list was topped by the two 3-3 draws of Manchester United vs. Newcastle and Arsenal vs. Liverpool. Hopefully the craziness continues into the weekend games.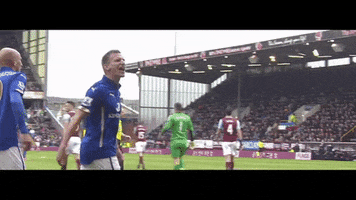 Here are the games you should be watching:
5. West Brom at Southampton, Saturday 10:00am ET
West Brom and Southampton could not be having more similar seasons. They both sit on 27 points, and have the same exact number of wins/draws/losses. West Brom are coming off a surprising 2-2 draw against Chelsea thanks to a late equalizer form James McClean. Southampton have been sorely disappointing so far this season, but Ronald Koeman rallied the troops to a 2-0 win over red-hot Watford side on Wednesday. Let's wait and see if the mid-week games have an affect on the level of play in this fixture.
4. Everton at Chelsea, Saturday 10:00am ET
In the earlier season match-up Everton bettered Chelsea by a 3-1 scoreline. I expect that result to flip when Everton travel south to play Chelsea on Saturday. Since caretaker manager Guus Hiddink has taken over in London the Blues are playing with more vigor and enthusiasm. They drew with West Brom at home in the mid-week, while Everton played an exciting 0-0 draw with Manchester City. I would expect a bag full of goals in this one.
3. Arsenal at Stoke City, Sunday 11:15am ET
We always talk about how hard it is to win at the Britannia Stadium, and the Gunners experience at the ground has been dismal. Arsenal have not secured a win at Stoke City since 2010, which make sense because Stoke City used to play a brand of soccer that stymied the Gunners passing game. Stoke play similarly to Arsenal now, with the likes of Bojan, Shaqiri and Arnautovic, so we'll see who plays the system better Sunday afternoon.
2. Crystal Palace at Manchester City, Saturday 10:00am ET
Ohh how my Palace have fallen. The South Londoners have not won in their last four Premier League games including a putrid performance against a terrible Villa side. I know the team has endured injuries, but they have enough talent in the team to beat the likes of Villa, Swansea and Bournemouth. Now we sit 8th, having to play Manchester City and Tottenham in our next two EPL fixtures (end rant). Manchester City dropped more points in the mid-week after a scoreless draw with Everton and now sit three points back of Arsenal and Leicester at the top of the table.
1. Manchester United at Liverpool, Sunday 9:05am ET
This is why Liverpool fans love manager Jurgen Klopp.
The German coach reacted this way to a late Joe Allen goal to earn Liverpool a draw against Arsenal in maybe the best game of the season so far. Manchester United also endured a 3-3 thrilling draw against Newcastle, but they held leads of 2-1 and 3-2, so the heat is back on Luis Van Gaal. These two clubs are the most successful teams in England and have a storied rivalry.