If you love drama and are a middling soccer fan, this is the weekend to start tuning into the Premier League. Almost all the teams have just seven games left in the season, while we inch closer and closer to a Leicester City shock title.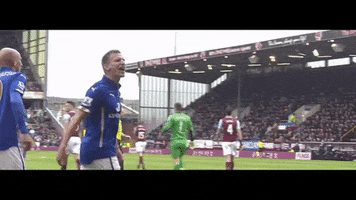 These are the games you should be watching this weekend:
5. Watford at Arsenal, Saturday 10:00am ET
Watford and Arsenal met just two weeks ago in an F.A. Cup quarterfinal where Watford went into the Emirates and came out on top. Watford have struggled recently in the Premier League as they're winless in their past four games, but the Emirates has been a happy hunting ground for the Yellow Army. Arsenal still have a game in hand against the two teams above them in the league (Leicester/Tottenham), but their form hasn't suggested that they'll be able to mount a last second title run.
4. Newcastle United at Norwich City, Saturday 10:00am ET
The fight for relegation is almost as intriguing as the title race this year. As it sits today, Norwich is three-points above Newcastle, but the Geordies have a game in hand. Whoever wins this game, I would feel safe in saying will avoid relegation, while the loser will be playing in the Championship next year.
3. Everton at Manchester United, Sunday 11:00am ET
Everton against Manchester United always seems to be an entertaining game to watch. It may be because Everton have transformed under Roberto Martinez and have become an offensively focused side, while the Red Devils have trouble scoring under Louis Van Gaal. Manchester United went to Goodison Park earlier in the season and dispatched a 3-0 win over the Toffees. I like Manchester United in this game only because Everton are a mess at the back, and Rashford will make them pay.
2. Southampton at Leicester City, Sunday 8:30am ET
Another weekend, another chance for Leicester City to cement their standing at the top of the table. The Foxes should be wary of the incoming Saints who have been red-hot in the Premier League unbeaten in their last three fixtures. The best part of this match is all the Leicester City fans are getting free beer and donuts!
🚨 FREE 🍺 & 🍩 ALERT! 🚨

There's a free Singha beer & @krispykremeUK doughnut for every #lcfc fan at Sunday's game, courtesy of our Chairman!

— Leicester City (@LCFC) April 1, 2016
1. Tottenham at Liverpool, Saturday 12:30pm ET
In my opinion, the only team that can catch Leicester City at the top are Pochettino's Tottenham. But this weekend they have a very tricky fixture against Liverpool, who they've struggled against in the past. Tottenham haven't beat Liverpool in their last six Premier League fixtures, with the last being a 0-0 draw earlier in the season. Now 'Spurs have to travel north to Anfield, where Klopp will have his team ready after they blew a 2-0 lead to end up losing 3-2 against Southampton. Klopp is one of those managers who enjoy ruining another team's season and as Liverpool sit 9th, that's all they really have.