The game of the weekend from last weekend's action in the EPL was surely the lunchtime, Saturday game, which pitted Arsenal against West Ham. Both teams had it all to play for, and the cagey affair ended in a 3-3 draw. At the top of the table, Leicester kept their winning streak by defeating Sunderland 2-0, a far cry from their usual 1-0 scoreline. Tottenham kept pace with the Foxes beating a beleaguered Manchester United 3-0 at White Hart Lane, but still sit 7 points back of Leicester with 5 games to play. At the bottom of the table, Aston Villa sealed their relegation by losing at home to Bournemouth, while Norwich, Sunderland and Newcastle all lost as well. Two of those last three teams will be relegated, with Sunderland and Newcastle having a game in hand against Norwich.
Big weekend in the EPL, so lets get PUMPED!
Here are the games you should be watching:
4. Manchester City at Chelsea, Saturday 12:30pm ET
When the Premier League schedule was released pundits had this fixture circled, because many thought it would determine the title. Not so much in hindsight. Chelsea have been a mid-table team all season, and with the official announcement of Antonio Conte becoming the new manager, players will be eager to impress the new Chelsea boss. City have all but locked up 4th spot, unless Manchester United somehow turn their form around. With having that spot ultimately locked up, Manchester City can have their sights set on their HUGE Champions League semifinal tie against Real Madrid. This is the farthest in a European competition the club has ever gotten, in one of their more disappointing seasons in the EPL.
3. Sunderland at Norwich City, Saturday 7:45am ET
These teams at the bottom of the table are scratching and clawing for every single point they can get. Sunderland have a game in hand on Norwich which could prove vital if they end up beating the Canaries on Saturday. Norwich have had Sunderland's number of late beating or drawing the club in their last 5 EPL meetings. With Newcastle having a winnable game at home against Swansea, both these clubs will be desperate to get the 3 points out of this game.
2. Tottenham at Stoke City, Monday 3:00pm ET
If Tottenham don't win the title can you really call their season a disappointment? No, no you can't. Spurs have been a joy to watch all season, with their flowing football and scoring touch up front. No one, and I mean no one saw Leicester having the type of season they are currently having, and you can't blame Tottenham for running into a buzzsaw. To give Spurs fans some solace, they'll probably be the favorites to win the league next season, and Champions League football will return to White Hart Lane. To keep pace with Leicester-who have a tough fixture vs. West Ham-Tottenham will have to go to the Britannia and beat Stoke. The last time Spurs went to the Britannia they lost 3-0, so it hasn't been a happy hunting ground for the London club.
1. West Ham at Leicester City, Sunday 8:30am ET
Led by their fearless manager Claudio Ranieri, Leicester City have all but clinched the EPL title.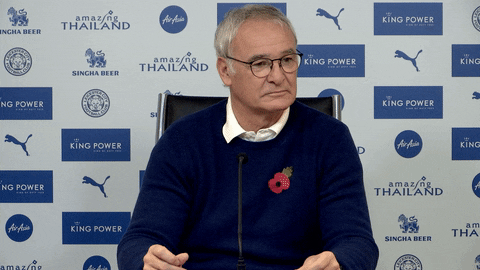 Now I know that may be considered a jinx in American sports, but even the Leicester fans have been chanting "We're Going To Win The League," after the past couple of victories. Leicester need just 9 points out of their last 5 games to clinch the title on their own, with the notion that Tottenham win the rest of their games. This weekend will be their toughest test in a couple of weeks, as West Ham come into town looking for their own glory. The London club still have an outside shot at 4th position, and will be looking to overtake Manchester United for a Europa League spot.