Last weekend's Premier League action was insane. I think we can all honestly say–even the critics–that Leicester City will win the 2016 Premier League title. With three games to play Leicester need just three points, after Tottenham's disastrous draw at home to middling West Brom. What a story it would be if Leicester could win the league at Old Trafford this weekend.
Images from the weekend.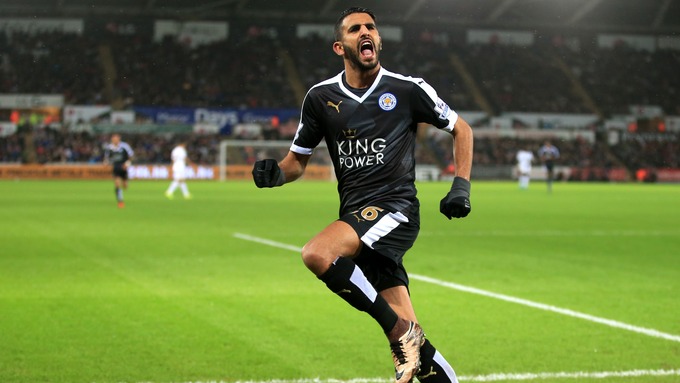 Here are the games you should be watching this weekend:
5. Crystal Palace at Newcastle United, Saturday 10:00am ET
C'mon you Palace! The Eagles flew their way into the FA Cup Final with a 2-1 win over Watford last Sunday. Palace are set to face the vaunted Red Devils in the final, and I couldn't be more excited. In the interim, Palace travel to the Northeast of London to face a desperate Newcastle squad. The Geordies stole a point last weekend at Anfield, which is no easy feat, but it wasn't enough to lift them out of the relegation zone. With Sunderland and Norwich City both still having a game in hand, this is a must-win if Newcastle are destined to stay up.
4. Sunderland at Stoke City, Saturday 10:00am ET
Stoke were absolutely throttled at the Etihad last weekend against Manchesterr City, and their defending, as of late, has been putrid. Centerback Ryan Shawcross has had a terrible season and Stoke need to get better on defense to challenge for Europe next season. Sunderland are pulling off another great escape under Big Sam Allardyce, and notched another impressive draw at Arsenal last Sunday. Out of the three teams fighting for relegation, Sunderland have been playing the best, and with a game in hand I see them ultimately staying up.
3. Norwich City at Arsenal, Saturday 12:30pm ET
Arsenal better watch out. With a game in hand and only 5 points back, Manchester United are looking to capture that last Champions League spot. The Gunners are falling, fast, as they drew at home to Sunderland last Sunday. The good news for Arsenal is Jack Wilshere has returned from injury and is available for selection. Norwich didn't play last weekend as their opponent, Watford, were in a FA Cup semifinal. The Canaries have been playing downright poor, and with Arsenal having something to play for this one could get ugly.
2. Tottenham at Chelsea, Monday 3:00pm ET
What a disappointing Monday night it was at White Hart Lane for Spurs fans. With Leicester already getting three points on Sunday, Tottenham needed a win to keep pace. Not only did they not win, but West Brom looked the better team in the second half of that game. Watching the match you could almost sense the players were tired and lacked that cutting edge Spurs usually possess. Another tough test lies ahead this weekend as Tottenham stay in London to play Chelsea. Last weekend, Chelsea finally played up to their talent level in beating Bournemouth 4-1, and even Eden Hazard scored. Chelsea would love nothing more than to spoil the title chase of Tottenham.
1. Leicester City at Manchester United. Sunday 9:05am ET
It's going to happen, IT IS GOING TO HAPPEN! Last Sunday, without Jamie Vardy, Leicester proved they're more than just one player as they beat Swansea thoroughly 4-0. It might have been the team's best performance of the season, with a whole host of players stepping up. As a soccer fan these are the moment you live for, Leicester being able to clinch the title at 20-time winners Manchester United. This is maybe the most must-watch game in Premier League history, so don't miss it!