For a kid like me who grew up in the 90's, the two biggest athletes on the face of the planet were Michael Jordan and Stone Cold Steve Austin. 
Austin really rose to mainstream fame with his finishing move, the 'Stone Cold Stunner'. I'm not a huge wrestling fan, but the Stunner has to go down as one of the best finishing moves in wrestling history.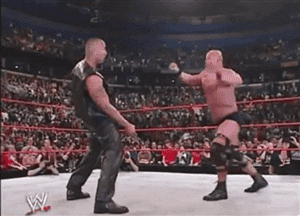 Wisconsin senior forward Nigel Hayes took it upon himself to channel the now retired wrestling legend. Hayes stunned two student managers outside of the Kohl Center during a spot on impression.
https://twitter.com/NIGEL_HAYES/status/748728811617783808