As I finish packing my clothes and all the main necessities for a weekend at the races (mainly beer), I figured I'd share my DraftKings NASCAR lineup for this weekend's race at Loudon. Now, my last lineup didn't go over to great. Clint Bowyer, of course, had electrical issues and my dark horse was out of the race in only 15 laps. But this time we are at the Magic Mile in Loudon, NH and I'm confident in my DraftKings lineup!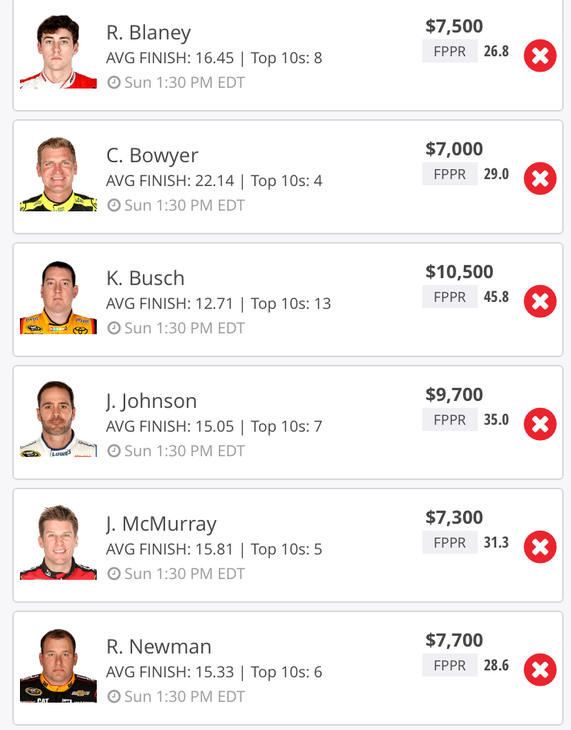 For this week's race, I went with a lot of middle of the road guys (no pun intended). First off, I chose Busch and Johnson as they will start in the front row. I look for them both to lead some laps. The rest start a bit further back but have all had success at NHMS. Ryan Newman, previous winner here, starts 25th and he should absolutely make a run for the top 10. Jamie Mac starts 19th and should certainly finish higher than that. My dark horse once again is Clint Bowyer. He starts his HScott Motorsports #15 car in the 32nd position. Look for him to improve on that throughout the day. Lastly, the youngster, Ryan Blaney. He's been better and better every week and I look at him for a strong performance on Sunday.
Only 24 hours remain until the Green Flag drops on Sunday at 1:30 PM! Make sure you get your DraftKings DFS Lineup in Today!
SIGN UP HERE!