Report-  A few days before taking meetings in the Hamptons (which led to signing with the Warriors), Durant dined with Westbrook.

Three weeks ago, Kevin Durant's sitting there at dinner, telling him "Hey, I'm coming back, man. Don't worry about it." And now, Russell Westbrook has been kind of thrown into this in having to decide his future a summer earlier than expected.
Kevin Durant, more so than even that, was telling people, "Hey, yeah, I mean I'm coming back." Like I said in there, a week before Kevin Durant sat down in the Hamptons, he was in Oklahoma City ready to make an offer on a multi-million-dollar house. So, the guy was pretty serious about coming back, and then things turned rather quickly for him to leave. And there's no doubt that the organization felt a little bit burned by this.
I hated the fact that Durant left OKC this summer. Many, including, myself thought it was a cop-out and an easy way-out because he's joining one of the best teams in NBA history. I even felt bad for a player I despise, Russell Westbrook.  He was left in limbo for one year with OKC after Durant's departure.
Now Royce Young of ESPN is reporting that before KD took his meetings with various teams in the Hamptons. Durant told Westbrook and members of the Thunder organization he was coming back and "Don't worry about it."
Obviously hindsight is 20-20, but if Durant did in fact give Westbrook or anyone else in the organization a guarantee of his return to OKC, I hate the move and Durant even more. As more and more comes out about Durant, I'm beginning to think we should have seen this move to the Warriors coming from a mile away. The soft-spoken, "Leader", has never been one to get on teammates or voice his displeasure to the media, which to me, is concerning.
I'm of the belief that the more a player talks to the media and tries to motivate his teammates, the more sack that player has. It also tells me how bad they want to win. Kobe had it, Michael had it, LeBron even has a bit of it, but Durant always seemed more comfortable in the shadows than in the spotlight.
KD is too much of a people-pleaser (quotes above), who tries to avoid conflict when the aforementioned players would relish in it. You have to look no further than Durant's, now teammate, Draymond Green. He's loud and outspoken on and off the court, but you know what that tells me, his thirst to win and be great is so high that he just can't help standing by as negative things happen. Contrary to Durant, when the Warriors struggle this upcoming season, in the rare case that they do. I know Green would be the first one to speak up and call a team meeting to right the ship. Would Durant do the same?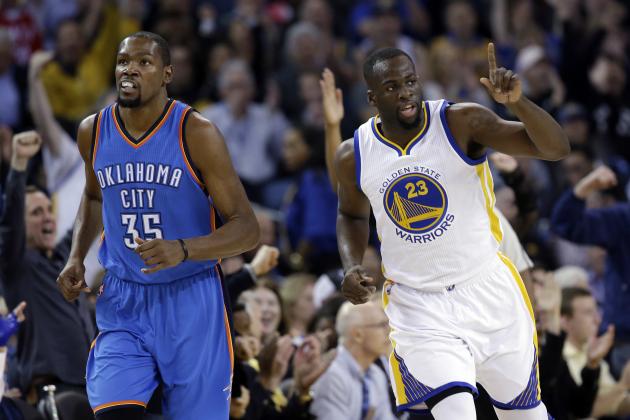 The answer is no, and I think that's why Durant joined the Warriors. With so many other superstars on his team, the spotlight will never be too bright on the DMV native, and it seems like he wouldn't want it any other way.