Whether you're a diehard fantasy player preparing for your draft, or just a casual NFL fan, you should get familiar with these rookie wide receivers.

The guys listed below are certain to make an impact on the field for their respective teams in 2016. Get to know these rookie wide receivers and then impress your friends with your football knowledge.
Corey Coleman – Cleveland Browns
College: Baylor/Selected: 15th Overall
Coleman is far and away the best of this year's rookie wide receivers. He's got great hands combined with lightning fast speed. He made big play after big play during his time at Baylor. I'm looking forward to watching him burn some defensive backs vertically. While playing in the Baylor offense he often made defenders miss with his quick foot work on bubble screens. Look for the Browns to incorporate those quick screen passes and then just watch as he goes.
Laquon Treadwell – Minnesota Vikings
College: Mississippi/Selected: 23rd Overall
A lot of people feel as though the Vikings stole Treadwell by drafting him at 23. Ahead of the draft, experts were saying that he was the best available receiver. He has the body of an NFL wide out, listed at 6'2, 220 pounds. Therefore, he can go up and grab balls at their highest point, using his size to screen smaller cornerbacks. He also uses his size and power to his advantage with the use of the stiff arm. While he doesn't have explosive speed, he is great at tracking the ball and is a solid route runner.
Sterling Shepard – New York Giants
College: Oklahoma/Selected: Round 2, Pick No. 40
Shepard is great at creating separation between himself and the defender. He is also phenomenal at running after the catch. I love the fact that although he is not the biggest guy (5'10, 194), he isn't afraid to go over the middle. He plays out of the slot, where he can run a variety of routes well and will rarely drop the ball. He is versatile, as he can be used in both the return game and as a blocker. His speed will make him a viable slot receiver in the NFL.
Michael Thomas – New Orleans Saints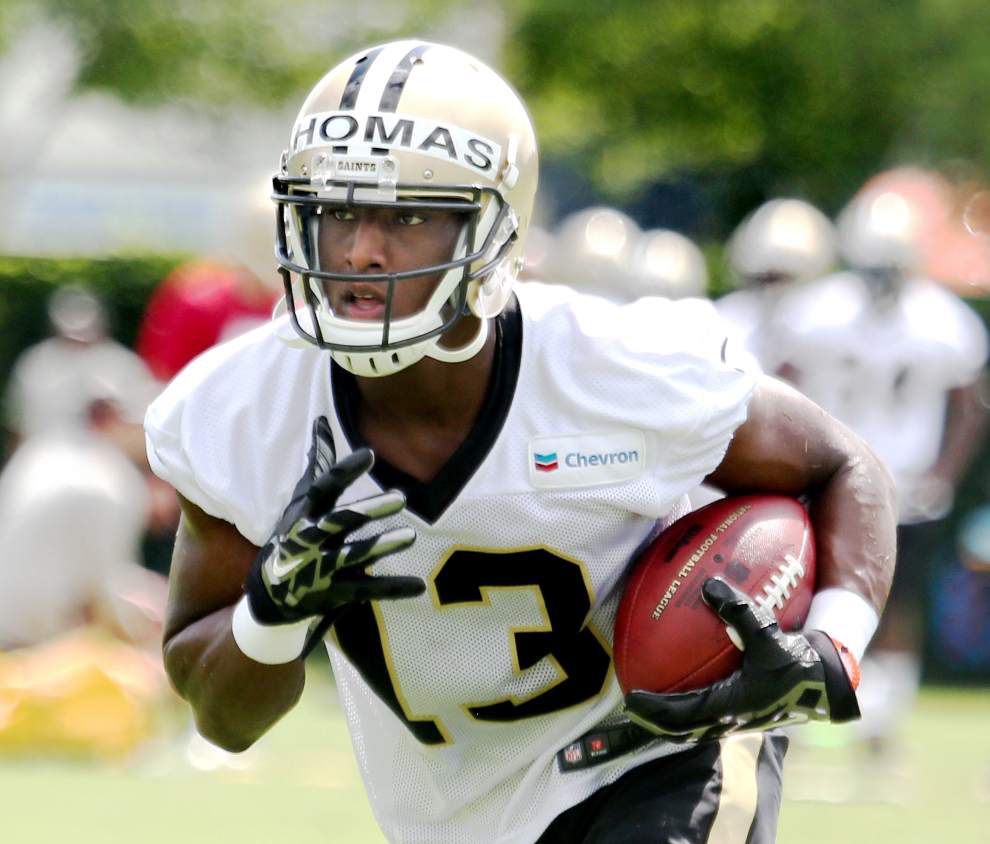 College: Ohio State/Selected: Round 2, Pick No. 47
Fun fact: his uncle is Keyshawn Johnson so receiving runs in his blood. He also has the size of a number one wide receiver (6'3, 212 lbs) and definitely uses that his advantage. He can immediately create separation off the line of scrimmage by constantly leaving defenders back-peddling. You'll be impressed by the way in which he uses his hands – not his body – to haul in passes. Thomas will be a dangerous red zone threat, as just like Treadwell, he is great at making a play on the ball. Thomas gets bonus points for playing with Drew Brees in the pass-happy Saints offense.
Tyler Boyd – Cincinnati Bengals

College: Pittsburgh/Selected: Round 2, Pick No. 24
Boyd played with a confidence at Pittsburgh that I loved. He also has the ability to make tough plays look easy. Similar to Shepard, Boyd has what it takes to go over the middle. He is an outstanding route runner that knows when to sit in space. He won't blow by a corner, but he has proven that he can grab anything that comes his way. He too was versatile while at Pitt and was used occasionally in the return game.