The Wild Card games are in the books and it's time to really get this postseason going. Tonight it'll be the American League taking center stage.

I'm ecstatic about the two ALDS matchups we have this year. The Red Sox-Indians series really could go either way, and the Blue Jays-Rangers…well…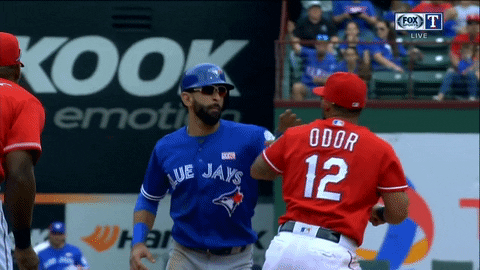 Yeah, that should be fun.
Let's go everything we have to look forward to in these two exciting matchups.
Boston Red Sox vs. Cleveland Indians
Unless you're a Red Sox fan (like myself and most of the writers on this staff) or an Indians fan, this series undoubtedly takes a back seat to Blue Jays-Rangers. But that doesn't mean it'll be without some fireworks of its own. Here's what to keep an eye on.
For David Price, It's Now Or Never
This season, David Price simply wasn't the guy the Red Sox shelled out $217 million for. Sure, he won 17 games, but he did so while posting a 3.99 ERA and allowing a whopping 30 home runs. That isn't ace-like stuff.
Now, Price enters this postseason as the No. 2 guy in the rotation behind Rick Porcello. The playoffs give Price the perfect opportunity to make Red Sox fans forget about his letdown regular season, but there's reason to be sketpical. The big knock on Price throughout his career thus far is his notorious struggles pitching in October. In 14 postseason appearances dating back to 2008, he has a 2-7 record and 4.92 ERA. Uh oh.
It's time for Price to be the guy Red Sox fans have wanted all along and prove he's capable of being competent in postseason play. If he can't do that, you can bet Boston won't let him hear the end of it.
Rick Porcello's Biggest Test Yet
Unlike David Price, Rick Porcello exceeded expectations and then some this season. He put himself firmly in the Cy Young conversation with a 22-4 record, 3.15 ERA and 1.00 WHIP.
However, like Price, Porcello has a history of postseason struggles. In eight postseason appearances since 2011 (16.1 IP), he's 0-2 with a 4.41 ERA. It's worth noting that only two of those appearances were starts.
Those mediocre numbers shouldn't be criticized as harshly as Price's. After all, Porcello's are a much smaller sample size and those appearances came at a time when he was the No. 3 or 4 guy on the Detroit Tigers' staff. He's a totally different kind of pitcher nowadays.
As great of a season Porcello had, it comes down to this. This is where we see what the potential comeback player of the year and Cy Young winner is made of.
It's Mookie Betts' Time To Shine
Mookie Betts is an AL MVP candidate for a reason. The 23-year-old phenom put up a .897 OPS while slugging 31 homers and swiping 26 bases. Plus, he's a hell of a right fielder.
This will be Betts' first postseason, and I for one am pumped to see him play on this stage. If there's one guy I expect to take this entire series by storm, it's Mookie (Well there's that David Ortiz guy too, but you get the point).
The Indians' Offense Is No Joke…
Before 2016 regular season: The Indians have the pitching, but need a bat. That offense kind of stinks.
After 2016 regular season: Indians offense finishes fifth in runs scored.
Indians fans have Francisco Lindor, Carlos Santana, Jose Ramirez, Jason Kipnis, and Mike Napoli to thank for that. All of those guys put up fantastic numbers. From Lindor it was expected, but the rest of them bounced back from mediocre seasons. That's what propelled them to a division title.
Does the lineup have enough firepower to keep up with the Red Sox? That remains to be seen. Either way, it'll be fun to watch them in action.
…But Their Pitching Situation Is Iffy
Before 2016 regular season: The offense kind of stinks, but at least they have a stacked pitching rotation!
After 2016 regular season: Danny Salazar and Carlos Carrasco are hurt and this rotation kind of stinks now.
The Indians are starting the series off with Trevor Bauer taking the mound in Game 1. That's not exactly what they had in mind before the season started. That gives the Red Sox a slight edge on the road in Game 1 since they'll have Porcello out there.
Cleveland does, however, have a Cy Young candidate of their own. That's Corey Kluber. He's been hobbled by a right quad injury, but looks to be healthy enough to pitch in Game 2. After him, the Indians need Josh Tomlin to step up big time.
Toronto Blue Jays vs. Texas Rangers
Rougned Odor vs. Jose Bautista
Here. We. Go. This is what fans have wanted to see since Odor punched Bautista and chaos ensued back in May. It's safe to say we'll all be on the edge of our seats when these two guys step up to the plate. I need Bautista to end up on second base after each of his at-bats so I can see him and Odor on camera together all series long.
Rangers Revenge?
When these two teams faced off in last year's thrilling ALDS, Bautista put an exclamation point on the Blue Jays' series victory with a clutch home run and bat flip of the century. This time around, Texas undoubtedly will be looking to return the favor.
This time, the Rangers have home-field advantage. That means a ton in this series considering how much of a madhouse Rogers Centre is this time of year.
Blue Jays Rotation: Someone Needs To Step Up
Toronto's rotation actually was pretty solid this season. They definitely have guys who are more than capable of stepping up in this series. It's just a matter of who, because they'll need it in order to stack up against the likes of Cole Hamels and Yu Darvish.
If any starter is to step up for the Blue Jays in this series, my money's on Aaron Sanchez. He'll pitch Game 3 when the series heads back to Toronto. He was outstanding in the regular season, finally getting the chance to establish himself as a starting pitcher (15-2, 3.00 ERA, 1.15 WHIP).
Don't sleep on Marco Estrada, Marcus Stroman, and J.A. Happ either of course. All three are reliable. Stroman had a tough 2016, but performed when he was needed most against the Orioles in the play-in game.
Rangers Rotation: Welcome Back, Yu Darvish
Cole Hamels had the weight of the rotation on his back in last year's ALDS. That isn't the case this time. Yu Darvish is healthy and ready.
Darvish very well could be the x-factor in this series. Having two ace-like starters in a five-game series is a major advantage.
Offense, Offense, Offense
Both of these teams ranked inside the top 10 in the league in runs scored. Plus, Toronto ranked fourth in homers while Texas ranked seventh. Chicks will love this series (They dig the long ball, get it?…). Ugh, sorry.
But seriously, this series will have it all. I know I just mentioned how good the pitching in this series could be, but these lineups are so stacked I don't know what the hell to expect.
Buckle your seatbelts, folks. This postseason is about to be one hell of a ride.
Game times:
Toronto Blue Jays vs. Texas Rangers – 4:38 pm
Boston Red Sox vs. Cleveland Indians – 8:08 pm