The English Premier League finally returned last weekend and to be honest, I was severely underwhelmed. I'm not sure whether it was the International Break or injuries to some of the tops players in the league, but the football being played just wasn't fun to watch. Let's hope last weekend's form was just a figment of our imagination and the footy improves. What worries me is that this weekend's list of fixtures is pretty fucking bad, but a huge rivalry game could save the whole weekend.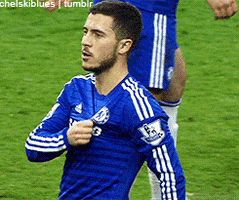 Here are the games you should be watching this weekend:
5. West Brom at Liverpool, Saturday 12:30pm ET
Everyone was looking forward to the Man U/Liverpool match earlier this week. It pitted Klopp against Mourinho and two of the most historic clubs in soccer history. The game couldn't have been more disappointing as it ended 0-0, which is exactly what Mourinho set up his team to do. Liverpool get right back on the horse as they host a West Brom team who are a scrappy bunch. The Baggies earned a 1-1 draw against Tottenham in their last fixture and their size will pose problems for Liverpool on set pieces.
4. Middlesbrough at Arsenal, Saturday 10:00am ET
The Gunners are as hot as a fox in a forest fire right now. Arsenal are unbeaten in their last seven fixtures including a win last weekend against Bob Bradley led Swansea, and a midweek Champions League rout over Ludogorets. Theo Walcott has been the star man for the Gunners throughout this streak, with Sanchez and Ozil adding in goals and assists. Arsenal are tied at the top of the table with City and the London club welcome Middlesbrough to the Emirates. As hot as the Gunner are, that's how cold Middlesbrough has been. The Northwest club hasn't won a Premier League game since August and sit just above the drop zone because of goal difference. They'll be desperate for points so this game should feature a ton of goals and attacking play.
3. Tottenham at Bournemouth, Saturday 7:30am ET
Tottenham were my pick to win the title before the season, and they've done nothing to make me waver. Spurs were disappointed in a 1-1 draw at West Brom last weekend, but I think the Baggies are better than what a lot of pundits think. In their midweek Champions League fixture, Spurs went to Germany to play Bayern Leverkusen and they were lucky to escape the Bay Arena with a point. This road game at Bournemouth is a game title contenders should win, but the Cherries are one the toughest outfits in the league. Eddie Howe has Bournemouth flying at the moment with a 6-1 home win against Hull City last weekend. The Cherries will be up for this huge game and the early time could hamper Tottenham's start to the game.
2. Southampton at Manchester City, Sunday 8:30am ET
Every Manchester City fan had their midweek fixture at Barcelona circled on their schedule. That game would be a good early litmus test for Gurdiola and Co. to see if his system was working. Newsflash, it isn't as FCB beat City 4-0 and it wasn't just that they got beat, it was how they got beat. Goalie Claudio Bravo was sent off for a handball outside of the box, and their defense was supremely lackluster. The Citizens will have to recover quickly as they welcome the Saints of Southampton to the Etihad. The south coast club had a Europa League fixture on Thursday where they traveled to the San Siro to take on Inter Milan. What a trip for those 7,000 Saints fans who made the trek. To be honest, they outplayed Inter all game, but a late Candreva goal was the difference. Claude Puel has the Saints playing attractive footy and City are in for a battle.
1. Manchester United at Chelsea, Sunday 11:00am ET
This has been the penultimate rivalry in the Premier League era. When Russian billionaire Roman Abramovich bought Chelsea in 2003, he made it a goal to challenge Manchester United year in and year out for the EPL title. That goal has been accomplished and Chelsea remain unbeaten in their last seven matchups against the Red Devils. Chelsea come into this momentous clash off the back of throttling Leicester City 3-0 at home last weekend. Since the Blues aren't in a European competition this year their total focus is shined on the league. Manchester United have been subpar so far this season but they might have broke out Thrusday night when they beat a decent Fenerbahce team 4-1 at Old Trafford. For the first time under Mourinho United looked to take the game to their opponents and it paid off. It'll be interesting to see how Mourinho is welcomed back to Stamford Bridge as he left with the club in shambles.