The Golden Globes, also known as the Oscar's oft-drunk cousin, are an interesting spectacle. It's an awards show in which your favorite (actually talented) celebrities (so no Kardashians, thank god) get drunk off champagne while letting 100 foreign critics shower them with praise. I'm happy it's a thing because we get things like this:
Or this:
It's fun, and not too serious, and we get to look at pretty people be pretty while arguing about what things we watch.
This year was kind of weird, though, in that Jimmy Fallon (read: Cool Dad That Tries Too Hard) hosted instead of two queens of comedy or a drunk IDGAF Ricky Gervais, and a lot of things won that didn't seem like it was just because of sucking up. I'm not here to talk about who won, because this isn't the top tier of film or TV awards ceremonies, but I am here to talk about the best moments of the night. From Donald Glover shouting out Migos to Goldie Hawn having no regard for the amount of unfairly attractive actors named Ryan in the room, let's discuss the Golden Globes.
Red Carpet
Besides every single person looking phenomenal, you only need to know four things.
1: Michelle Williams wore the hottest choker I've ever seen, and this picture really doesn't do it justice.
2: Ryan Reynolds and Blake Lively are still perfect.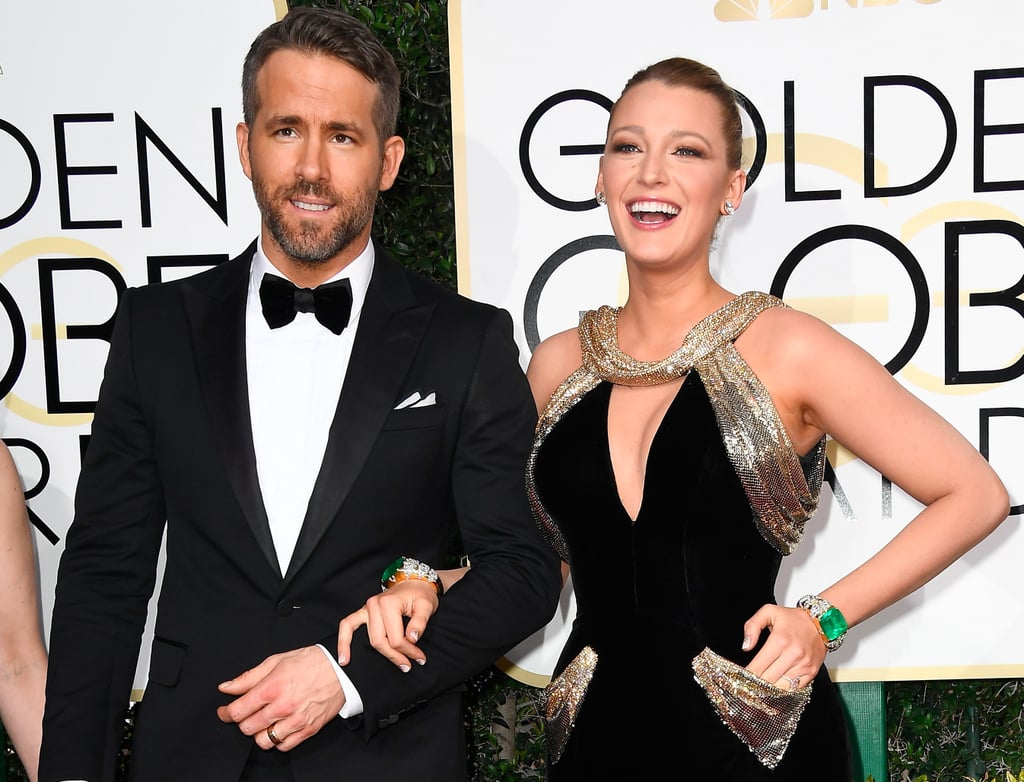 3: Evan Rachel Wood, our favorite robot from Westworld, might be a vampire in real life.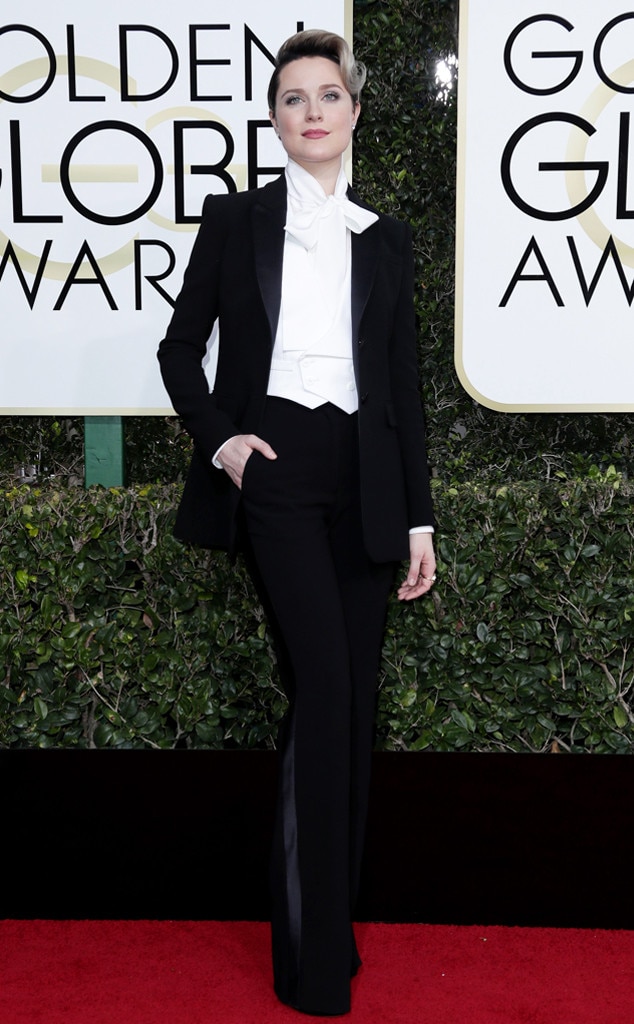 4: An NBC host doesn't know the difference between two of the movies with predominantly black casts (also, Michael Keaton doesn't either).
PSA: There is no film called 'Hidden Fences' pic.twitter.com/9ybUjxgcd6

— GQ Magazine (@GQMagazine) January 9, 2017
The Actual Show
The Intro
The introduction was just an entire ripoff of La La Land. This was a nice precursor to La La Land winning every single award, and I love the shit out of that movie so I can't complain too much, but it was pretty lame to be honest.
There were nice parts, like Eleven from Stranger Things spitting a couple flame bars (she is known to do this).
Kween pic.twitter.com/rUXsAoIYkv

— Feitelberg (@FeitsBarstool) January 9, 2017
Or Fallon with Ryan Gosling like locks, and Ryan Reynolds spitting a mint into his mouth. Or Fallon and Justin Timberlake putting their bromance out in full force to very funny effect (start vid at 2:24 for those moments).
Fallon as a Host
Jimmy Fallon wasn't bad, but he wasn't good. He was like a dad whose kid tells him that their friends thought he was funny and then tries super hard to be funny and cool whenever his kid's friends are around. His Jessica Chastain-Eddie Redmayne rap is a cringeworthy watch, so much so that I won't even link to it for your own safety.
He started out with a broken teleprompter and sort of bumbled through that with a weird line about doing a tripping gif in real time (I don't know) and an actual good joke about Mariah Carey being a terrible performer for NYE. Other than that it was often basic jokes, some smirk worthy. Fallon just isn't cruel enough and is way too friendly, seeing as he is essentially a puppy in human form, to make jokes at other's expense. In a night that is extremely self-indulgent for Hollywood, it's nice to have someone like Ricky Gervais who does not give a single fuck what anyone thinks and will bite the hand that feeds him joke after joke.
The Show
The show worked as a pretty good reflection of 2016. You wanted to sleep through most of it (albeit only because it was boring, not absolutely terrifying because an orange, tiny hand having demagogue threatens to ruin our existence) but every now and then there would be something that you would perk up at.
I give you Michael Shannon and Billy Bob Thornton, who have been drunk for hours already and are therefore killing the game.
Michael Shannon has never been more Michael Shannon. #GoldenGlobes pic.twitter.com/r2mOkkcnoK

— Dalton Ross (@DaltonRoss) January 9, 2017
Love the move of wearing sunglasses in a dimly lit room at night. Total power move, total "I had 3 too many shots of tequila in the limo over here" move.
Aaron Taylor-Johnson
Aaron Taylor-Johnson, who you may know from movies such as Kick-Ass and Avengers: Age of Ultron, won the award for best supporting actor in a drama. That was the first surprise of the night, and the most Golden Globesy move the HFPA made the entire ceremony. What was more shocking than that, however, was what he shared about his personal life.
You see, he gets up and kisses the woman next to him, who looks as if she could be his mother. OK, you think, maybe they are just one of those weird families that does mouth kisses. But then he delves into his speech, thanking his wife, at which point he points to the older woman he kissed, and then talked about his four kids (!!!!????!?!?!?!?!??).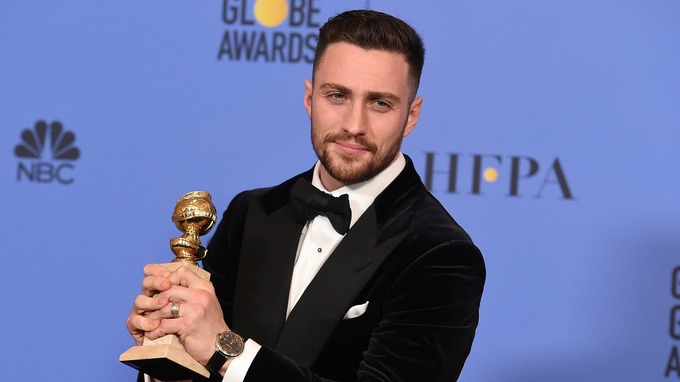 That is Aaron Taylor-Johnson. Age: 26. This is Aaron Taylor-Johnson and his wife, Sam Taylor-Johnson (director of Fifty Shades of Grey). Age: 49.
He has two children with her, and then two step-children through her. Son, love is a crazy thing.
Donald Glover Ruling The World
Donald Glover, comedian/actor/writer/creator/director/rapper/funk musician/style god, won best actor in a musical or comedy series as well as winning for his show Atlanta, which he created, wrote for, acted in, and directed for. Donald Glover is a god. Donald Glover also made a great joke/very true statement about "Bad & Boujee" being the greatest song ever in his speech that only about 19 people understood.
RESPECT✊🏾RAIN DROP @DonIadGIover pic.twitter.com/6awkZlodN1

— QuavoYRN (@QuavoStuntin) January 9, 2017
Donald Trump on Blast
Naturally, we would get some Trump hate. Not shockingly, the best of it wasn't from the kindhearted Fallon, but from Hugh Laurie. Formerly known as Dr. House, Laurie makes a joke about how he's happy the HFPA (Hollywood Foreign Press Association) honored him at the "last ever Golden Globes", because "It's just it has 'Hollywood', 'foreign' and 'press' in the title. To some Republicans even the word 'association' is slightly sketchy".
Continuing on that thought was Meryl Streep in an incredible speech about empathy, caring for each other, and showing consideration for outsiders and foreigners. She took a not so great jab at MMA and football, saying that if we kick all of the artists out then "you'll have nothing to watch but football and mixed martial arts, which are not the arts". MMA is dope, so how dare she, and while football is barbaric entertainment, it still is pretty enjoyable. But, her points were valid and important, and we should be smart to make sure the press does/can do its job and hold those in power in check.
At tonight's #GoldenGlobes we honor Hollywood legend Meryl Streep with the prestigious Cecil B. Demille Award. pic.twitter.com/dxpeCDNXY6

— Golden Globe Awards (@goldenglobes) January 9, 2017
Amy Schumer Being Funny While Goldie Hawn Brutally Delivers The Best Ryan Winner 
Here is Amy Schumer, who can be funny but can also be not funny, being very funny while Goldie Hawn fucks up everything (remains to be seen whether this was on purpose or part of the show). She could barely read the prompter, and then when announcing the winner of best actor in a musical or comedy, in which Ryan Gosling AND Ryan Reynolds were nominated and both had significant shots at winning, took a brutal pause after saying Ryan causing everyone to be confused.
.@amyschumer & @goldiehawn present Best Performance by an Actor in a Motion Picture – Musical or Comedy. #GoldenGlobes pic.twitter.com/oOQ2spTgvV

— Golden Globe Awards (@goldenglobes) January 9, 2017
Baby Goose won, naturally. But, Goldie better never play with our hearts like that again.
Sidenote: Ryan Reynolds and Andrew Garfield passionately kissed when she announced the winner, while sitting next to the goddess that is Ryan Reynolds wife, Blake Lively. Only the sexiest man alive could do such a thing and remain perfect.
While Ryan Gosling was winning, Ryan Reynolds and Andrew Garfield were kissing. #GoldenGlobes pic.twitter.com/6yUIYoa8g4

— 9GAG (@9GAG) January 9, 2017
Brad Pitt Is BACK
Months after a rocky divorce with Angelina Jolie, in which there were some pretty heavy and serious rumors floating around, Brad Pitt has returned to the public eye. And boy, does Brad Pitt look fucking amazing. Our boy Brad looks like Angelina dropping him is the best thing to ever happen. He looks like a man ready to ride around town and just make sweet love to everything that comes in his path (in a consensual way). After years of bad goatees and some questionable long hair (not the shoulder length, my man killed that look) dude is looking 100000000000000% right now. Be prepared to orgasm your life away.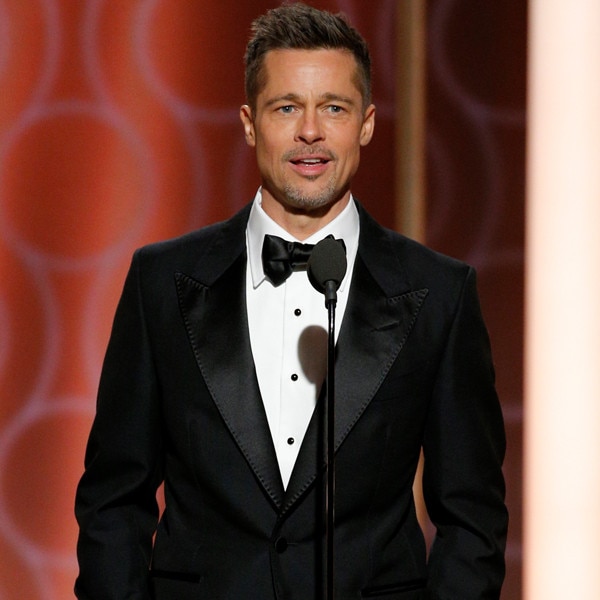 #CarellWiig2020
The funniest bit of the night was Steve Carell and Kristen Wiig presenting best animated film. They both told their first memories of seeing an animated film. They traded stories that were brutally funny with perfect deadpan acting. Wiig, in classic SNL form, didn't hold it together the entire time. Doesn't matter, still funnier than anything else that happened the entire night. Need them to host the next five hundred Globes ceremonies.
La La Land Wins Everything And Will Win Your Heart
La La Land is one of the frontrunners to win Best Picture and really backed that up with a huge night at the Globes. While they weren't going against the two other main competitors (Moonlight, Manchester by the Sea) because of being in the musical and comedy category, they still racked up wins in some categories that could have been toss ups. Nonetheless, they set a Globes record, winning 7 awards.
La La Land is, in my mind, the best movie of the year. If you are reading this, go see it. It is an incredible piece of work all around, and will make you smile, laugh, sink your heart, fill your heart with joy, and so much more. You can listen to dumb people on Twitter that nitpick because it gets a lot of attention, or listen to dudes who have fragile egos and are worried about their masculinity and therefore cut down this film because "its got songs bros, that's fucking gay people stuff", but you would be missing out and equally dumb as those people. Go see La La Land the next time you hit the theater.