Donald Trump took to Twitter early on Wednesday morning to let the world know that he has a new public enemy in Snoop Dogg.
Trump is upset over Snoop's latest music video, 'Lavender.' In the video, Snoop points a gun at a man dressed as a clown that looks exactly like the President.
Snoop spoke to Billboard about the controversial video and said,
making a song that was not controversial but real — real to the voice of the people who don't have a voice. It's not like [Jesse] told me to make a record to express what I'm expressing on the song, but there were certain things that he said that brought that feeling, to make me want to express that when I was writing.

The whole world is clownin' around, and [Jesse's] concept is so right on point with the art direction and the reality, because if you really look at some of these motherf–kers, they are clowns.

The ban that this motherf–ker tried to put up; him winning the presidency; police being able to kill motherf–kers and get away with it; people being in jail for weed for 20, 30 years and motherf–kers that's not black on the streets making money off of it — but if you got color or ethnicity connected to your name, you've been wrongfully accused or locked up for it, and then you watching people not of color position themselves to get millions and billions off of it. It's a lot of clown sh-t going on that we could just sit and talk on the phone all day about, but it's a few issues that we really wanted to lock into [for the video] like police, the president and just life in general.
Now that the back story has been established, let us take a look at a gif taken from 'Lavender.' You can watch the full video right here.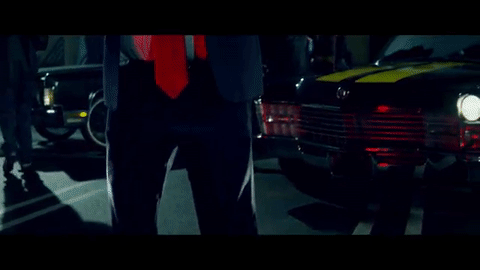 'Lavender' was released on Sunday so it took Donald a few days to respond. Fox News must have just gotten wind of the video on Wednesday. So now that Trump has finally seen the video, he let everybody know what he felt about it and the 'failing career' of Snoop by tweeting;
Can you imagine what the outcry would be if @SnoopDogg, failing career and all, had aimed and fired the gun at President Obama? Jail time!

— Donald J. Trump (@realDonaldTrump) March 15, 2017
As usual, Trump's mentions were immediately flooded. Here is just a sample of the types of responses he was getting to his tweet.
you gonna issue an executive order to take back that fist bump, dude? pic.twitter.com/4niS2gDMNH

— Alex Zalben (@azalben) March 15, 2017
also, thanks for coming out harder against Snoop Dogg than you ever have on anti-Semitic hate crimes.

— Alex Zalben (@azalben) March 15, 2017
Snoop is cooler than you ever will be.

— Steve Porter (@djsteveporter) March 15, 2017
.@realDonaldTrump @SnoopDogg You mean Kenyan born, microwave tapping, failing Obama? You only tried to discredit his amazing eight years.

— Tony Posnanski (@tonyposnanski) March 15, 2017