We are continuing our series of positional fantasy rankings as we get closer and closer to football season. Lets dive on in, Folks! ** PPR based rankings, per usual.
10. Dez Bryant- Dallas Cowboys 
I don't know if Dez should actually be in the top 10. Dak had troubles getting him the ball last season and I'm afraid that Dak won't live up to the hype for his 2017 campaign. With that said, Bryant is a dominant WR when keeping a level head.
9. Allen Robinson- Jacksonville Jaguars
Jesus, ARob killed me last season.. but I'm putting it behind me and moving on. I love the way this Jags team is shaping up for 2017. Look for the Allen brothers to find their 2015 form.
8. Amari Cooper- Oakland Raiders 
Cooper had a strong campaign last season but I think 2017 is going to be his true coming out party. Big B is saying Carr will be the MVP of the NFL and he won't get here without Cooper being a stud. Currently, Amari is going in the early third round, could be a nice steal.
7. Jordy Nelson- Green Bay Packers
I love me some Jordy Nelson! Dude is a warrior on the field and works extremely well with Aaron Rodgers. I'm a little worried about his health but if he doesn't get hurt then he'll be an easy top 10 WR.
6. T.Y. Hilton- Indianapolis Colts 
The chemistry between Andrew Luck and T.Y. Hilton is out of this world. They have connected for almost 5,000 yards in their first 4 seasons together. The bond will only continue to grow in 2017.
5. Odell Beckham Jr.- New York Giants 
Hot Take! Odell barely eeks into the top 5 in WR fantasy points. Couple reasons: 1) Eli regresses big time. 2) lots of mouths to feed in NY. 3) Odell is a nut job. I wouldn't draft him in the first round.
4. A.J. Green- Cincinnati Bengals 
Always been a big A.J. fan. I love big WR's that can go up and get the ball. Green fits the bill perfectly when it comes receptions , yards, and touchdowns. Easy pick if you want a WR at the end of the first round.
3. Julio Jones- Atlanta Falcons
Julio is a freak. That catch he made in the 4th quarter of the Superbowl was out of this world. The only reason he isn't higher on this list is because I feel like he was been questionable with a toe or thumb injury for the past three and half years.
2. Antonio Brown- Pittsburgh Steelers 
Surprised? Yeah me too.. Antonio is obviously the best receiver in the NFL and I wouldn't blame you if you took him first overall. With that said, I just have a strong gut call on our number WR.
1. Mike Evans- Tampa Bay Buccaneers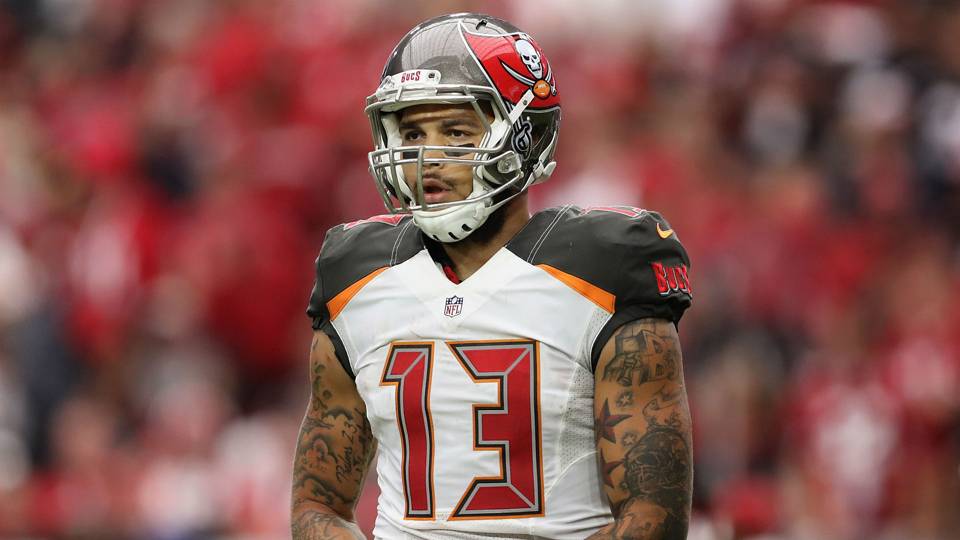 Second hot take! Mike Evans will be the number 1 wide receiver by the end of the 2017 NFL season. In early mock drafts he is considered a late first round pick, but for me the 5 guys that should be in the first overall conversation are DJ, Le'Veon, Zeek, Antonio, and Evans.
@TheLedgeSports